What I remember about
Grace Jones,
growing up in Texas, what a shot of a stark naked chocolate woman with a boxed-frame haircut, taking a milk bath in the video for
"I'm not Perfect (but I'm Perfect for You)."
At this point I did not know or understand the importance of what she was doing, what it meant or what it could possibly stand for. I knew she dressed like a man and was known to be glamorous, outrageous AND linked to several rich and famous Caucasian men. Very
Diana Ross
.
Her style, her visualizations, her antics, her vocalizations – all unique for her time. Having carved out a niche for herself in the 70s as a sought-after model in Paris (and paling around town as
Jerry Hall's
best gal pal) Jones was one of the late 70s-early 80s first triple threats as a model, singer and actress. Strong-bodied and blessed with absolutely stunning features, the personality was intriguing and the face was beat…all creating a Jamaican brew that said "Look At me." Very
Jackie Washington
.
Never a chart-topping diva like latter day triple threats (
J.Lo, Janet, Madonna
) Jones does lay claim to several disco-anthems that are continuously sampled by producers who lack the creativity to assemble their own uniqueness. Very
James Frey
.
In the here and now, I wonder if a black woman or any woman of color might be able to rise to the occasion and challenge the blond-haired, blue-eyed standard of beauty embodied by
Paris Hilton
? Not likely. Mass media and marketing leave no place for the outlier on this statistical pointboard. As close as we will ever get to an off-the-chart black girl is
Kelis
…and even she has gotten naked on the cover of
KING
and lost her luster. Or was it the
Source
? Or does it even matter? Now every black girl who grew up wanting to sing has to lighten her skin, add honey-blonde extensions and don hazel-colored contacts. Who knew that one day Beyonce would become the STANDARD by which every black woman in the country was judged?
Chrisina Milian, Letoya, Ciara, Kelis
, even
Brandy
(so very sad) seem to channel the looks and crossover appeal of the Texas diva and manage to come off as bad drag impersonations. Can any black girl make a video without rocking a weave?
Give me the 80s. When a woman like
Grace Jones
put on a pin-striped suit with no bra, cut her hair like
Kid-N-Play
and dared you not to see the lioness inside of her. And while doing this, she STILL made the pages of
Vogue
and
Cosmopolitan
. And still partied with the upper-crust of New York society. And still trotted around the globe looking fabulous and giving two-cheeked air kisses to all the glamorous people.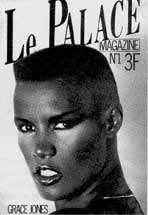 I obviously missed out on the focus group that determined all women of color should look like Beyonce. If I were there, I might have shared my feelings about
Grace Jones
. About
Whoppi Goldberg
. About
Jody Watley
. About women of the 80s who rocked their own styles and still found success. And crossed over.
It takes very little by way of talent and creativity to be a caricature. A good stylist. Great publicist. Creative marketing.
But what of the women who paved the way. Who created roads that did not exist. Walked into magazines that had previously ignored their beauty. Demanded to be seen as more than an eroticized objects of taboo. Much more than big-boned palates for great choreography.
Give me a woman who is devoid or botox, and implants, the need to get undressed or dumbed down to feel validated. Exposed, vulnerable and strong. She might not be perfect for mass marketing, but she'd be perfect for me.
Musings and Ponderations
:
Will my friends shun my need for intimacy?
Last night I was listening to
Atlantic Star's "Send for Me."
In a deep tone that infused both urgency and passion, a male voice called out "…put a message in a bottle baby…send for me." How intimate must it have been to receive a handwritten note from a distant lover. To consider what thoughts must have raced through the mind while selecting a pen, a writing canvas, a perfect bottle. The perfect perch from whence the bottle would be tossed into the ocean. And found by a familiar hand. Every choice, every selection, ever motion more intimate than the first.
I long for that communication. And not just from a lover. From a friend. But the advent of text messaging, email, and myspace.com have only produced barriers to true intimacy…not created stronger bonds. I could of course log onto friendster.com and come across the profile of someone who sat behind me in third grade. And perhaps we may have some catching up-to-do. And even establish a new possibility. But what about the people who are within arms reach? Or ears reach? A walk away? A short train ride? A stroll across the hall?
Why do I have friends who will send me
"Happy Easter"
text messages without calling me to say "hello." Mind you, none of these people know I am a Christian since I don't wear it on my sleeve. It is a truly a personal relationship for me. And not in that
Star Jones
kinda way. And then there are people who email me (along with one hundred other people) to tell you how they are doing, or promote their interests, without ever delving into my world or asking how I am doing. And there are the "personal" emails, which are actually mass emails in disguise that are self-absorbed attempts to brag about one's life. And the people who join your
myspace.page
, or
yahoo360
page to add you as a friend hoping to create the illusion that 300 people actually "like" them. And the bloggers who feel the need to "alert" me about page updates when I have NEVER given the illusion that I am remotely interested in any of your world views or musings which I find voiceless and numbing. I've also never given you my email address.
But what bothers me about communication is that I have "friends" in my life who I really do not know. Who I really have no authentic communication with. Outside of the b.s.
I had a great conversation with my friend
Danya
, whom will be throwing a joint birthday party with me, and we talked about communication and barriers. And she made a great point. There are some people we only want to email and text. Because they are not really our friends. They are co-workers, colleagues, business associates, or just "cool" people we know. And I get that. There are some people I like to email to find out if they are still alive…or single…or still thin…but outside of that I'm really not interested. So I get it.
But what of the inner circle? The people who call your boss and lie for you? Pull your hair back while you are perched over the porcelain god? The friends who slide you a mirror and a razor under the stall? The one's that will give you a urine sample?
Why are they the ones sending texts and vague emails?

Lately, I have been confronting the people in my life (in my inner circle) who are blocking our intimacy. Real talks. Real communication.
Now when I get a text I ask myself, does he not want to be friends with me? Does she not like me? Cause those are the people I text and email. I only call all the people I like.
And if you are reading this and I have not called you in a few months BUT I sent you a Happy Easter text message, I can assure you this is not about you. At All.
But as my birthday approaches, I have just decided that I am reaching out to the people I love and
demanding more
.
But also giving more
. Just to let them know I am there. And I care. And you can't get that from a text. Or an email. At least I can't. So lately I have been making some phone calls and opening up and sharing with people my feelings about this. And if you are one of my texting friends, rest assured I will be contacting your shortly. Because I do want you in my life. Closely.
It is hard to open up to people, but that is want friends are for. After all, I can be distant with strangers.