The Texas Tiger Chronicles
Wednesday, August 31, 2005
Last night...my reality
The Texas Tiger Chronicles
In my spare time I am a field producer for a new reality show I can't tell you about. But, what i can tell you is that I went to a vibe showcase for David Banner, Yummy and Chamillioare. All wear really good. Yummy is this girl from Queens, NY who has a single out with Jadakiss. Her voice is like a cross between Victoria Jackson from SNL and Michelle (Something in my Heart, from the 80s). The song is hot. I was feeling her. But nothing can compare to David Banner.
Something bout them Southern Boys. At least that is what I say when I look in the mirror.
David is from Mississippi. ANd he repped for the South. He was slinging Cognac on the crowd. Sidebar: Um, I had some cognac and cranberry - after two cocktails....umm hmmm. I was looking around hoping I didn;t end up going home with someone.
Back to David - his flow was tight and he was being all political and stuff. He talked about hatred in the rap industry. How violence on wax is ignorant and makes us look crazy in front of the Caucasians who run the industry (you see ya boy being all P.C. and stuff?)
Sidebar - I just had a quick conversation with my favorite waitress.
Ok, and so David also talked about record sales, his faith in God and his wieght loss. None of that was as interesting as his political commentary but I have to admit I usually dont like rap concerts cause I love vocalist but David Banner is a standout star. He has the "it" factor.
Posted by Texas Tiger in NYC :: 9:00 AM :: 5 Comments:


---------------oOo---------------

Home Sweet Home?

When I think of home, I think of a place where there's love overflowing
-Stephanie Mills - as Dorothy from The Wiz '78

I am moving into a new building today in Central Harlem. It's definitely a come-up from the brownstone Bobby and me lived in last year (the one with only two windows). It's an 11 sotry building with a well-appointed lobby and several nice doorman. Think Upper East Side meets Harlem. And best of all, an elevator. I have a friend with a very nice apartment in a five-floor wlak-up, but I couldn't do it. I could see myself after a wild night of partying coming home and laying out on floor one cause honestly, who can make it up 5 flights of stairs at 4:33am on a Sunday. That would force me to wear my club-gear to church cause I wouldn't have time to change before 9am service.

Hey....have you ever accidentally worn your club VIP band to church? One sunday my pastor said raise your hand if you are saved and I proudly raise my hand and my VIP band (in lime green) was on prominent display. But whatever.....I am Saved!

And like right now...I am at a very social coffeeshop near my house. Its very earthy and artisitic which I love since I am a writer living in Harlem.

I am wearing a t-shirt I picked up from this fly boutique named Xukuma in Harlem on Lenox Ave. Really nice duds. The store owner asked me would I model for her I was like sure...put my picture right up in the front window and some lazy Sunday I will get in the store front and just stand there with a vague look of discomfort on my face...ya know, like a Gucci model.

Did we enjoy the season finale of Being Bobby Brown? Hell to the Naw.

Are we concerned that I still have not figured out how to post pics, create links or spell check? Hell to the Naw.

Are we excited about Paris Hilton's new album? Hell to the Naw.

Ok..sidebar, I am people watching as I talk to you and myself since most of this is for my own recollection since none of my friends actually read this...why do dudes wear their pants below thier butts. And when they do, why do they wear CHEAP underwear? Is that sexy? Hell to the naw.

Is there some underlying resentment between Africans and African-Americans? When I walk down 125th I can feel the ahte.

Sidebar #2. Are gym memberships free in Harlem. Why am I the only skinny guy here? Everyone is muscular. As far as I am concerned thin is still in.




Posted by Texas Tiger in NYC :: 8:48 AM :: 0 Comments:


---------------oOo---------------
Sunday, August 28, 2005
VMA Sidebars

The Texas Tiger Chronicles

Ricky Martin - You betta give me butch. I see you done got all gangsta on us, hanging out on the rough side of Beverly Hills and stuff. Getting all hoody with studio-thugs fresh from the marketing departments of some of New York's finer recording companies. But here's the thing, your female background dancers are your friends. As they touch you and dance close, I get a sense of fear. Abandonment. Disconnection. I am sure they won't hurt you. And you wouldn't turn into a pillar of salt if you made eye contact. And if you did, I am sure your muscular personal trainer Juan Carlo would be there to sweep up the mess.

Lil Kim - I love you and will miss you. And by the way, I think it is safe for female inmates to pick up the soap, but if I were you I would stay away from the milk.

Missy and Ciara - The hand-holding was giving me too much.

Michelle - Congrats on the GAP commerical. You know I bought both of your gospel albums. Looking back on it, you owe me $36.

Fergie - The dress wasn't sexy....I think you crossed the line between tasteless and sexy.
Posted by Texas Tiger in NYC :: 7:45 PM :: 0 Comments:


---------------oOo---------------

VMA3

The Texas Tiger Chronicles

Mariah Carey - Singing live on location. Cause the stage wasn't being enough for two divas (Puff had stage ONE on lock). The performance was hot but Mariah, I need you to work on presentation. Look at the camera and stop looking unsure of yourself. You are the biggest selling female artist of all time. Give me stage presence. Give me drama. Give me diva. I mean damn Mariah, Whitney can chief up a chimney and sweat out three beach towels and command the stage better than you. Matter of fact, I don't have any Grammys or American Music Awards, all I have to my credit was the starring role in my 3rd grade Christmas play but you better believe I WORKED Black Jesus to the end. My granny still talks about me being born in the manger. It's about PRESENCE. OWN IT. But when you hit the high note and struck that pose at the end just selling freshly Nair-ed leg, I was IMPRESSED. You betta work the water. ..and the epilady.

Eva Longoria - Eat your heart Desperate Housewives. When Eva come out in the swimsuit, I know Nicollette Sheridan was sitting at home very unhappy.

Don Juan - um......umm.....ummm. I am so conflicted. When we support Don Juan are we glamoring prositution? Pimpdon? Bad taste in hats, glasses and shoes?

Kanye and Jamie - This is presentation. I liked the clothes....sound quality of the performance....um...."I aint saying your was lip syncing but um...you wasn't messing with no live singing." But go head get down boy go head get down
Posted by Texas Tiger in NYC :: 7:39 PM :: 0 Comments:


---------------oOo---------------

VMA2 - R Kelly

The Texas Tiger Chronicles

R Kelly - you lost points for lip-syncing. Oh wait...I can't judge your singing because you are giving us Drama. Performance. Diva. Acting. Lights. Camera. Action. Ok...on second thought, those acting classes are working. I believe you. You better sang about the closet! You know what..you are a good actor. Tell your lawyer to stop pushing that court case back. You are such a good actor I think you are ready to tell the judge 1) It wasn't you in the video. 2) you only date women over 21 3)you don't engage in water sports and actually even hate to pee in the bathroom and 4) you would never give a girl $100 to have sex....you start in the thousands.
Posted by Texas Tiger in NYC :: 6:12 PM :: 0 Comments:


---------------oOo---------------

MTV VMA CommenTerry The FIrst Hour

Where do I begin first?

Destiny's Child - Beyonce has the nicest dress and Kelly's weave was a rush job. What is this 2001, 2002, 2003, 2004 all over again?

Jessica Simpson - You seem to have been floating. Or lifted. Or um...high...on life of course. Oh what happened to the girl from Texas who I met three years ago on the E! True Hollywood story that came into the game singing for the Lord? Was that a bra and booty short set? I am not hating on your for wearing it, in fact...you should send a note to Tina Knowles because your booty short set was way more fly than Beyonce's booty short set from the MTV Movie Awards. While we are on it, should booty shorts come as a set? I always thought it was better to mix and match.

Kanye West - Shout out to you brother for the Time Magazine cover. And I like your outfit. You are impeccable. Please pass this note along to your stylist: Hey, I like what you are doing with Kanye's fashions. He represents for us brothaz who didn't grow up in poverty. But yea, I have a comment about his sunglasses. He kinda has a rectangular head right. Now I was pretty good in Geometry when I was a high school sophomore so I know a few things about angles and structure. Now, you should not put rectangular glasses on a rectangular forehead. Kanye needs the wrap-around glasses ok. Yea, I know the glasses cost more than I will be making for the next 4 months, but still....really?

Amerie - A mer ree. Hey...why do people pronounce your name Ann-Marie? You would think at the point in your career your manager would make sure people address you correctly. I mean come on...you are sleeping with him right? Tonight before you get out of bed to go get him a moist towel, just kinda slip that in...ok.

Shout out to John Legend for having a beautiful leggy model with him at the awards. Which reminds me, I am going to wear my beard long next weekend. Hold on while I call my barber.....
Posted by Texas Tiger in NYC :: 6:02 PM :: 0 Comments:


---------------oOo---------------
Thursday, August 25, 2005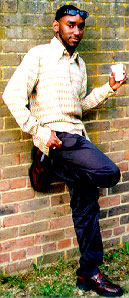 My European Vacation

Posted by Texas Tiger in NYC :: 10:54 PM :: 0 Comments:


---------------oOo---------------

Texas Tiger Stare Down

Posted by Texas Tiger in NYC :: 10:53 PM :: 0 Comments:


---------------oOo---------------
Tuesday, August 23, 2005
Eddie Murphy's Divorce

This is all for SPECULATION and NOT NECESSARILY true. I don;t know any of these people. I am just distributing pop culture gossip for your entertainment purposes:



Los Angeles -- The ex-girlfriend of New Edition and LSG singer Johnny
Gill is now speaking out about her recent split up with the singer. She
tells Atlanta Gossip, (AG) reporter Tiffany Long that Johnny is
struggles with his sexuality and that Hollywood has put pressure on him
to be straight.
"Johnny and I broke up earlier this year after I became curious about
his friendship/relationship with actor/comedian Eddie Murphy," she said.
"Johnny and Eddie have always been very close friends, but I could not
compete with their relationship. It was strange...I can't even explain
it," she tell Atlanta Gossip.
Other sources tell (AG) that Johnny Gill is actually living in a guest
house on Eddie Murphy's property in CA. A posting on taken from
blackvoices.com entertainment forum says this: Rumors are circulating
throughout Hollywood about the Eddie's divorce battle, I was talking to
an industry friend last night 08/15/05, she said, Nicole got sick of
putting up with him and Johnny Gill.
People had warned her yrs. ago about the downlow rumors, even one of her
close family members, but she chose not to believe it until she
witnessed it, Eddie had got to the point where he didn't care, he often
told her, he was the breadwinner and to stop asking him stupid questions
about where he was going and who he was with.
He became so brazen, Johnny came over to their house every holiday,
sitting at the head of the table with Nicole and the kids. Tevin
Campbell, Sugar Ray, Tyler Perry and Shemar Moore are also heavily
involved in this scenario, they tried to recruit Mike Tyson (when he had
money) but it wasnt his scene. Johnny is pathetic, he was with all these
men and did not benefit, before he reunited with New Edition, he was so
broke, he lived in Sugar Ray's Guest house and I heard his wife wasnt
too happy about it.
Sources say at the New Edition Album release party, Johnny got extremely
drunk and made a pass at P. Diddy.
They also stated that the following gentlemen are involved in their
circle of DL brothers: Arsenio hall, football player Johnnie Morton and
Benny Medina. They said that the reason his wife stayed knocked up is so
she wouldn't be suspicious of his extra activities.

Posted by Texas Tiger in NYC :: 11:45 AM :: 2 Comments:


---------------oOo---------------
Monday, August 22, 2005
The Texas Tiger Chronicles

The Texas Tiger Chronicles

Question of the day: Who was your favorite Spice Girl?

THE BET AWARDS revisited:

Faith and Toni Braxton – Ok…the worst idea of the night was to pit two black women on the comeback against each other.   Faith tried to be an upstanding Christian about it.  As she stood there with the names of ALL her babies daddies up and down her arms and breasts, it took everything in her power to keep her from slapping Toni down the aisle.   Let's take it from the top.  Someone obviously ask Faith to perform at the last minute cause there was no sound-check or practice…apparently.   Cause come on, as many years as you been singing, please don't tell me you sound like that WITH practice.  So Faith was a wobbly mess on her first piece for Gladys.   Here comes Toni- ok.  Hmm.  What do I want to say.  Ok, after two babies, she is STILL flawless.   But, um, you have been doing the leg out thing for 10 years now – step your game up in the dress department.  I know you are angry that J.Lo. stole your thunder at the Grammys circa 01.   Yes, you have been slinging the hot gowns for years and years and people don't give you credit for that….but this is not the time for you to make a comeback in that department.   You need to sing.  And if that performance was any indication of what it to come, I will gladly download your new CD illegally thank you very much.

Part II- the divas together.  Toni went of the lyric sheet and started wailing.   Faith thought Toni was going to stick to the lyrics but didn't want to get shown up so she starts to wail also.  I give the victory to Faith cause her voice got better under the stress of the competition.   But overall, the only saving grace was that Gladys performed.  Next year, let the honored guess pay homage to themselves cause Toni and Faith was a big disappointment.

And onto Lady T – Teena Maire is a poet.   I think the poetic tribute to Mr. Rick James which mixed prose, song lyrics and social commentary into one poetic brew was flawless.  You have shown was true talent is.   You are a true artist.  All them out there in the audience who claim they write their own songs should be held to the same standards.   Let me see John Legend, And Beyonce, and one of those rappers (which is supposedly poetry) get up and kick some game like that without music, a posse of 50 and a pimp cup.  Then we will see who is a diva, a legend and a true player.

And on Mike Jones - So Mike was reppin for Houston. Acres Homes 44! HE comes out there "back then they didn't want me...now them hot hoes all on me" And he is rapping. His big belly was sticking out but not out as far as his wallet, at least that is what he said. Ok, so then he is join onstage by like 94 other boys from his neighborhood. And they are out there with pimp cups, rented jewelery, silver/platinum teeth and the b-boy stance. Now normally, I would be sitting at home talking much smack about this disgusted display of this warped form of hyper-masculinity that the prison mentality has let sweep through the black community and control the minds of father-less boy...but tonight was different. I was feeling it. I was tossing up the duece sign and as Mike Jones performed, I had the sudden urge to smoke a black and mild. I can't explain it. I am getting gangsta I think. Have you ever ever walked to the local bedega and bought a pre-made cup of ice so you could pour a $5 bottle of liquor into it? I have...and I liked it.
Posted by Texas Tiger in NYC :: 1:28 PM :: 0 Comments:


---------------oOo---------------
Sunday, August 21, 2005
The Texas Tiger Chronicles

The Texas Tiger Chronicles

Question of the Day: Do you remember how you felt when Chip Field aka Penny's momma on Good Times looked lil Janet Jackson right in the eyes after she ran to the bathroom and said "I locked it. I knew it would be the first place you'd run to hide." Do you remember?

I was abused growing up. Not physically, or sexually but mentally. I remember it like yesterday, it was 1990 and Janet Jackson was on her first world tour to support the release of Rhythm Nation 1814. I asked my dad for tickets and he didn't buy them for me and he provided no valid explanation. I cried a river of tears that night. And I still haven't recovered from that. So if I ever send my father a nice and low sarcastic comment you know where it stems from.

Oh and in case you are wondering, my web blog is going to be very Rosie O'Donnell-ish in terms of my random thoughts and association and the free-flowing nature. Doesn't expect a theme. I am really moody.

And by the way, I am sitting in a coffee shop in Harlem named Society. I just ran into this beautiful chocolate girl who sings her own songs on her acoustic guitar on the Upper East Side on Wednesday night. Much like India.Arie except she looks like she grew up in the suburbs and I am here only black friend.

Why did this lady just ride by the coffee shop on a bicycle with her head in an old-school Erykah Badu head wrap....really? It is 90 degrees outside, I know her scalp is a hot mess.


And oh, I used to be a musician so I want to end each web blog like it's a lyrical composition with the word Fine. And I don't know when Fine will appear because like I said, I am really moody and I will just throw it at you when I get bored.

But before I go, um....where are people always staring at me. I mean honestly, someone is always watching me. Now I expect that at work cause I am the only black guy but like right now....why so much attention? It is so hard being so attractive and stunning. I imagine Naomi Campbell knows how I feel. I am going to ask her about it one day when I interview her.


Fine.

Posted by Texas Tiger in NYC :: 1:09 PM :: 0 Comments:


---------------oOo---------------
Friday, August 12, 2005
The Texas Tiger Chronicle Blast Off

I rant, I rave, I rival, I ridicule, I resent, I ryde or die. I reminisce, I relish, I reserve, I revisit, I relive.

I'm demanding, I'm dominate, I'm destructive, I'm delightful, I'm delicious, I'm a true to form DEVO, DIVO, DEVO, DIVO.

Being someone with a wealth of knowledge of all things good and evil, I decide it was time to share with the world my thoughts, my feelings, my desires and dreams. Along the way we will visit some failures, perhaps some heartbreak and even on a rare occasion, a regret. But for now, we will accentuate the positive. The brighter side of my Colgate smile. The warm richness of the mocha in my skin. The vastness of the vessel from which all my thoughts flow.

Basically, this is a blog about Control. My Control. Control of what I say and control of what I do. And this time I am gonna do it my way. I hope you enjoy reading this as much and I enjoyed writing it. Are you ready? I am. Cause it's all about control, and I want lots of it.
Posted by Texas Tiger in NYC :: 7:52 AM :: 0 Comments:


---------------oOo---------------